Shoulder Sports Injuries and Treatment
Millions of people suffer from shoulder pain every year. While some cases may be minor, others can be quite serious. Many times, the pain is the result of a sports injury. If you're one of the unlucky few who suffer from this type of injury, know that you're not alone.
The Orthopaedic Institute offers a range of treatments to help you get back to your favorite activities as soon as possible.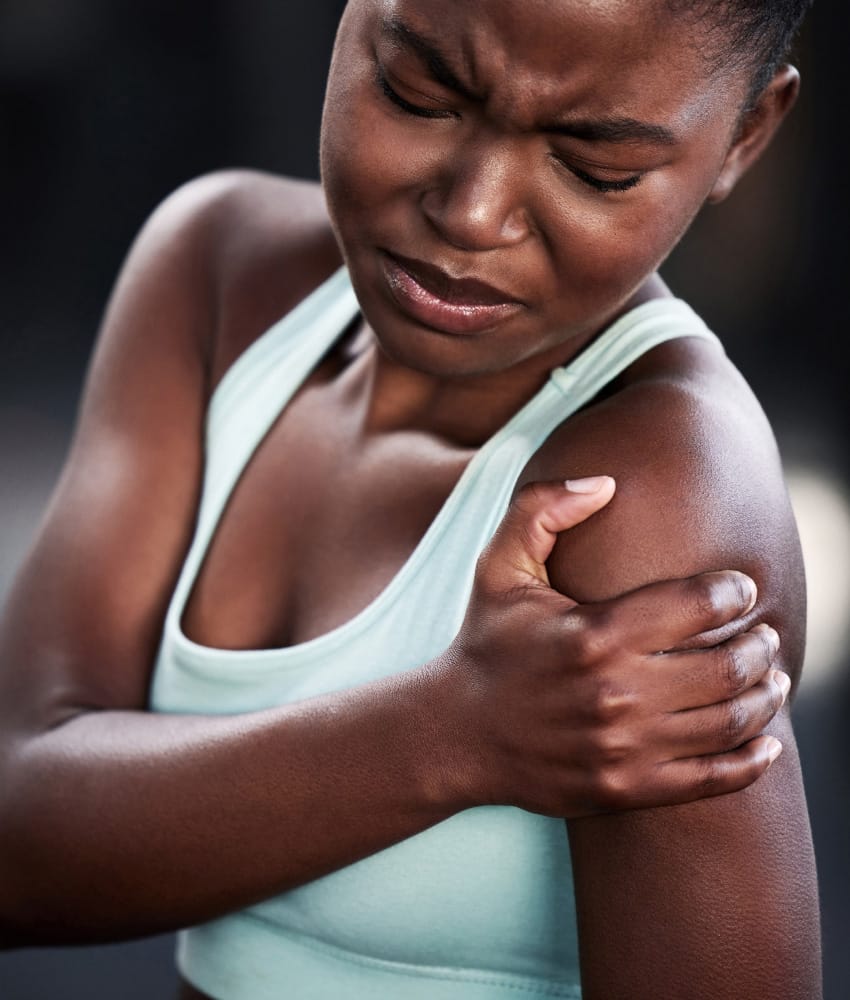 Experience the Benefits of a
Sports Medicine Specialist
One of the major misconceptions about sports medicine specialists is that they only treat athletes. In reality, our sports medicine team treats a broad range of individuals, from the weekend warrior to the everyday active adult. While shoulder injuries are more likely to occur in athletes, anyone can hurt themselves or experience overuse injuries. Our goal is to treat injuries, enhance mobility and keep our patients physically active in the long run.
Most Common Shoulder Sports Injuries
The human shoulder is a complex joint that provides significant power and mobility while maintaining a wide range of motion. However, because of its complexity, the shoulder is susceptible to a variety of overuse and sports injuries.
Most cases of shoulder pain are acute and go away with time, rest and home remedies. However, if you have shoulder pain that persists longer than six weeks, it may be time to seek the help of a sports medicine specialist.
We offer the latest orthopaedic technologies and treatments, including:
Sports Medicine Treatments for
Shoulder Pain
The Orthopaedic Institute offers a comprehensive sports medicine program to help you get back in the game as soon as possible.
Our sports medicine specialists have years of experience diagnosing and treating a range of sports injuries, and some of our providers have even worked as team physicians for collegiate and professional sports teams.
We offer the latest orthopaedic technologies and treatments, including:
4.7 out of 5

Patient Satisfaction Rating
Providing an exceptional patient experience is our top priority, and we're proud to announce that our patients rate us a 4.7 out of 5 in patient satisfaction.
"The Orthopaedic Institute is the most outstanding health provider I've ever had to deal with. They are right on target when it comes to your orthopedic health. You can't go wrong going to this institute.
The staff there are very pleasant and take good care of you. Plus, the front where you check in and the back where you check out are on top of their professions. Thank You!"
Treat Shoulder Pain at The Orthopaedic Institute
Whether you're a weekend warrior or a professional athlete, the sports medicine specialists at The Orthopaedic Institute can help you get back in the game. We offer comprehensive diagnosis and treatment for shoulder injuries and work to prevent future injuries with customized rehabilitation programs.
Schedule an appointment with us today to get started on your road to recovery.
Request an Appointment
"*" indicates required fields