World-Class Care, From Wherever Life Takes You - TOI Telemedicine
TOI telemedicine appointments are now available with the same orthopaedic specialists you would see when visiting one of our locations, guaranteeing the same level of high-quality treatment. TOI Telemedicine appointments are the ideal way to treat your musculoskeletal injuries without ever having to leave the comfort of your home. Skip the trip without skipping out on quality care.
As long as you have a reliable internet connection and video capabilities, the experts at TOI Telemedicine are here to assist you.
TOI Telemedicine works best with a secured Wi-Fi internet connection.
We recommend the use of a smartphone or tablet to allow for easy visual access to the injured or painful body part.
**PLEASE NOTE: TOI Telemedicine patients DO NOT NEED A PASSWORD**
Get started with TOI Telemedicine today!
Give us a call to schedule or request an appointment online.
Receive Text Message: Once you have spoken to a member of our scheduling team, you will receive a text message from us.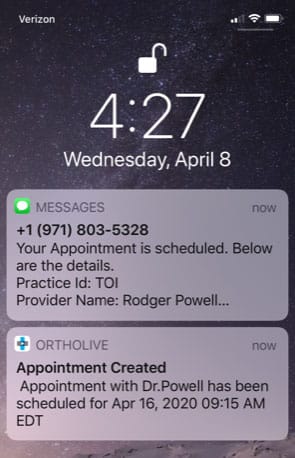 Agree to Consent Forms: In order to proceed with your TOI Telemedicine appointment, we will need you to view and agree to ALL consent forms by clicking the "Forms" button.
We ask that you go ahead and complete this step as soon as your appointment is scheduled in the app.
Waiting Room: When it is time for your appointment, press the "Waiting Room" button to start the HIPAA-compliant video. Your provider will join when ready.